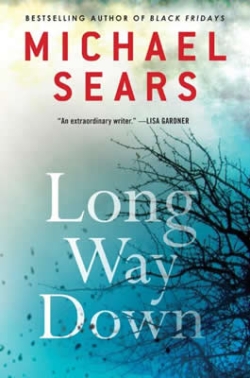 Long Way Down
A Jason Stafford Novel
By Michael Sears
Published by G.P. Putnam's Sons
From the author of the acclaimed, award-winning debut novel Black Fridays, comes a story of murder, greed, and corruption—and the lengths to which one man will go for his family.

Two years in a federal prison has changed Jason Stafford, is still changing him, but one thing it has taught him as a financial investigator is how to detect a lie. He doesn't think Philip Haley is lying. An engineer on the verge of a biofuel breakthrough, Haley has been indicted for insider trading on his own company, and Stafford believes him when he says he's been set up. Haley does indeed have enemies. He is not a nice man. Doesn't make him a criminal.
It does make him dangerous to be around, though. The deeper Stafford investigates, the more secrets he starts to uncover, secrets people would kill for. And that's exactly what happens. Soon, it is Stafford himself who is under attack and, worse, his family—his fiancée, his young son—and he is a fugitive, desperately trying to stay one step ahead of both the killers and the law.
Paperback | 4 x 1 x 7.5 | 978-0425276532 | February 2, 2016